How to add app icons on WidgetClub?
How to hide previous app icons?
Basically, you can delete app icons one by one by long pressing the app you want to hide on the home screen and selecting "Delete".
(Do not select "Uninstall". The app itself will disappear and you will not be able to open the app.)
If you want to know more details in the video, check out the following video starting at 1:44 seconds!
For OPPO: If you are using OPPO's Color OS Home app (default app), you may not be able to hide it with the default settings. First, you need to change the home screen mode setting.Tap "Settings" > "Home Screen & Lock Screen" > "Home Screen Mode" and change to "Drawer Mode". Then, long press the app you wish to hide on the home screen and select "Delete" to hide the app icon.
I cannot put a square icon in the Dock area.
Some home apps do not allow you to put a square icon in the Dock. In that case, please change the home application ("Launchair 2" is recommended) or select a round icon instead of a square icon.
If you want to know how to set round icon, please refer to the following video from 1:11 seconds
WidgetClub mark on the round icons cannot be removed
Due to Google's restriction, you cannot remove the watermark on the round icons. Please understand. If Google announces a way to remove it, we will improve it  ASAP.
Can I display notification badges on icons?
Unfortunately, we can't remove notification badges due to Google's restrictions 🥲 Please understand 🙇‍♀️ As soon as Google announces a way to display them, we'll implement it!
My icon disappeared. Why did that happen?
There could be several reasons 🥲 Please try the following:
1. Update the app to the latest version
Make sure you're using the latest version of the app.
2. Update your OS version
An outdated OS might not work well with the app.
3. Make sure you're not using a problematic home app 【Important】
If you're using the "Docomo UX live" home app, there have been reports of a bug in Docomo's home app that causes widgets not to be added or to disappear after being added. Please check if you're using a compatible home app.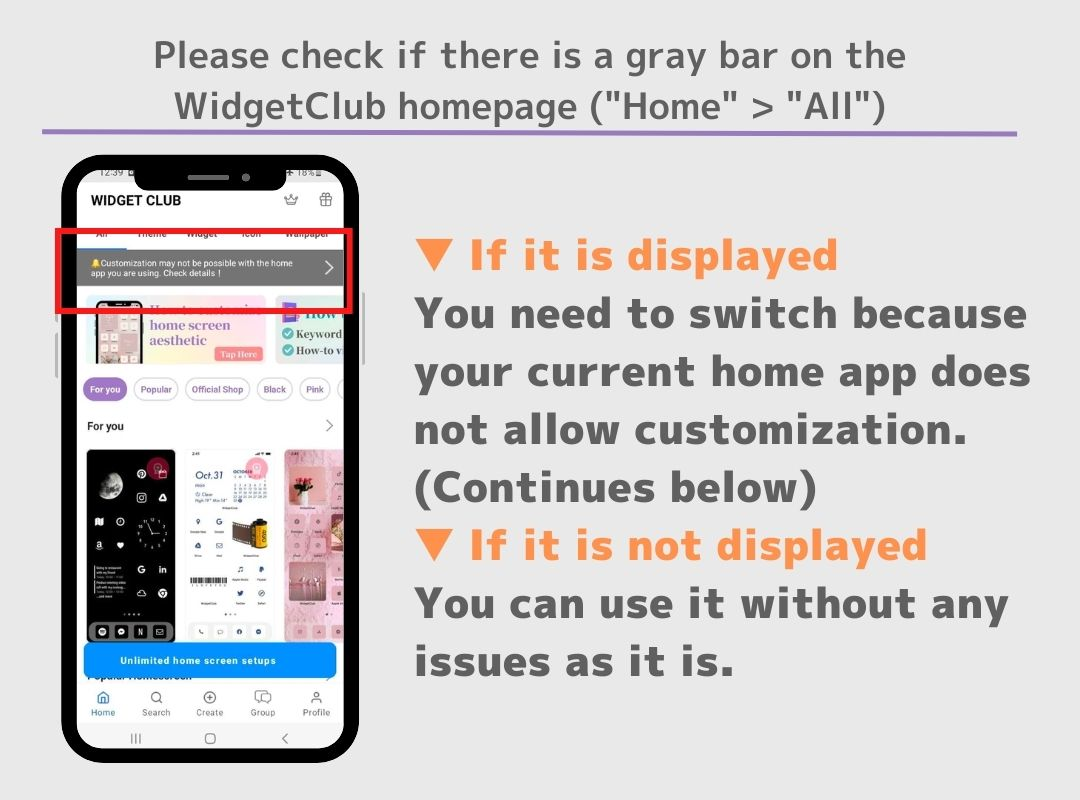 If you need to switch the home app, please check this article below for more details
Our top recommendation is Nova Launcher
Nova Launcher is the most stable option and highly recommended! It has been confirmed to work well with WidgetClub. The free version works just fine.
Icons are displayed in 5 columns, but I want to change it to 4 columns. Is there a way to do this?
Yes, you can change the number of App Grid. The exact method may vary depending on the home app you are using. If you're using Nova Launcher, for example, follow these steps:
1.Long press on an empty space on your home screen.
2.Tap on "Settings" (the gear icon) to access Nova Launcher settings.
3.Go to "App Drawer" setting.
4.Tap on "Drawer App Grid"
5.Adjust the number of columns to 4 by using the slider or by entering the number manually.(Recommend app grid: 4x6)
If you're using a different home app, the process might be slightly different, but generally, you'll find the option to change the grid size or the number of columns in the home app's settings.( In some home app, you cannot change app grid🥲)
Recommended app grid: 4x6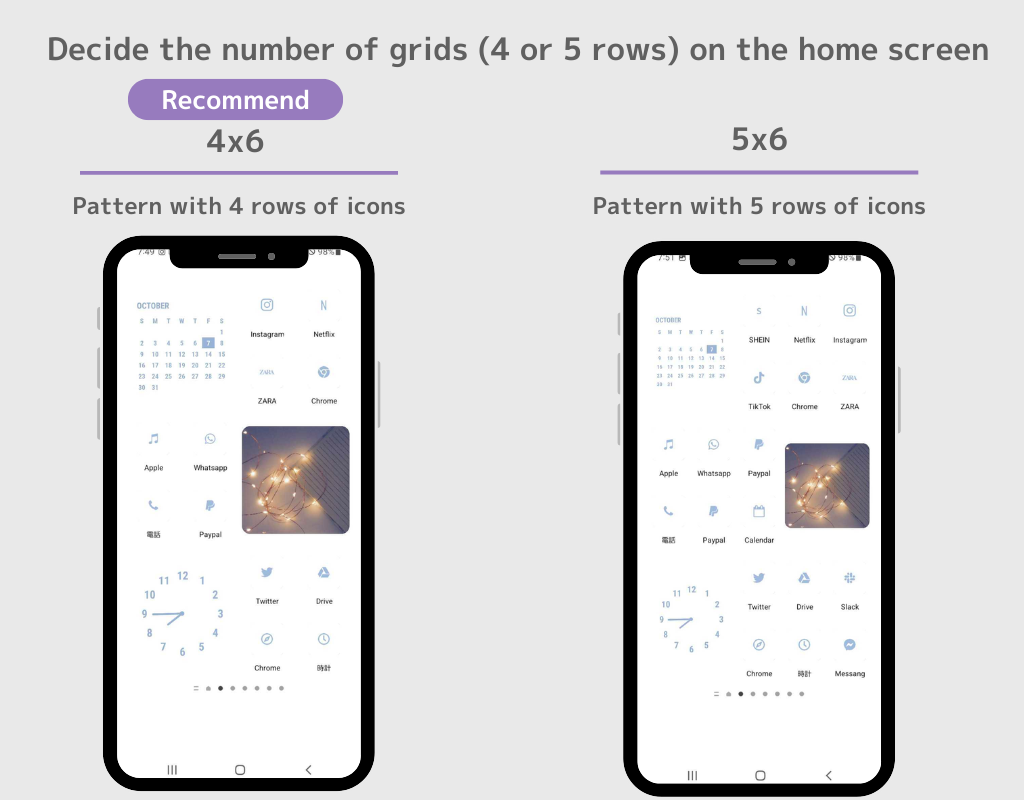 If your home app doesn't allow you to change app grid to 4x6, Check other home app!
If your app doesn't allow app gird to be 4x6, please check other home app!
We recommend "Nova Launcher" app if you have problem like this.
Nova launcher is the best app for customizing home screen.
Please check the link below and switch your home app to Nova Launcher.(Other company is running this app)