How to set Widgets?
This video below explains How to set widgets
Can I change the size of the widget?
You can change the size of a widget after it is added to the home screen.
1. On the home screen, press and hold the widget you want to resize. (In some device, you need to move it left and right after press and hold it)
2. A line to adjust the size will appear, so move it as you like.
In some home apps, the line to adjust the size may not appear until you move the widget, so if it does not appear, try moving the widget itself!
My widget setting space has run out of free space, what should I do?
Basically, the widget setting space itself can be replaced by overwriting the data.
For example, the first you set the calendar widget to the #1 in small widget setting space, but you can easily replace it with a clock widget by overwriting it!
Please watch the widget's instructional video from the beginning to get know more about this convenience feature
How to fix widgets not showing up or disappearing after being added
There might be a bug in the home app you're using. Please switch to the default home app for your device.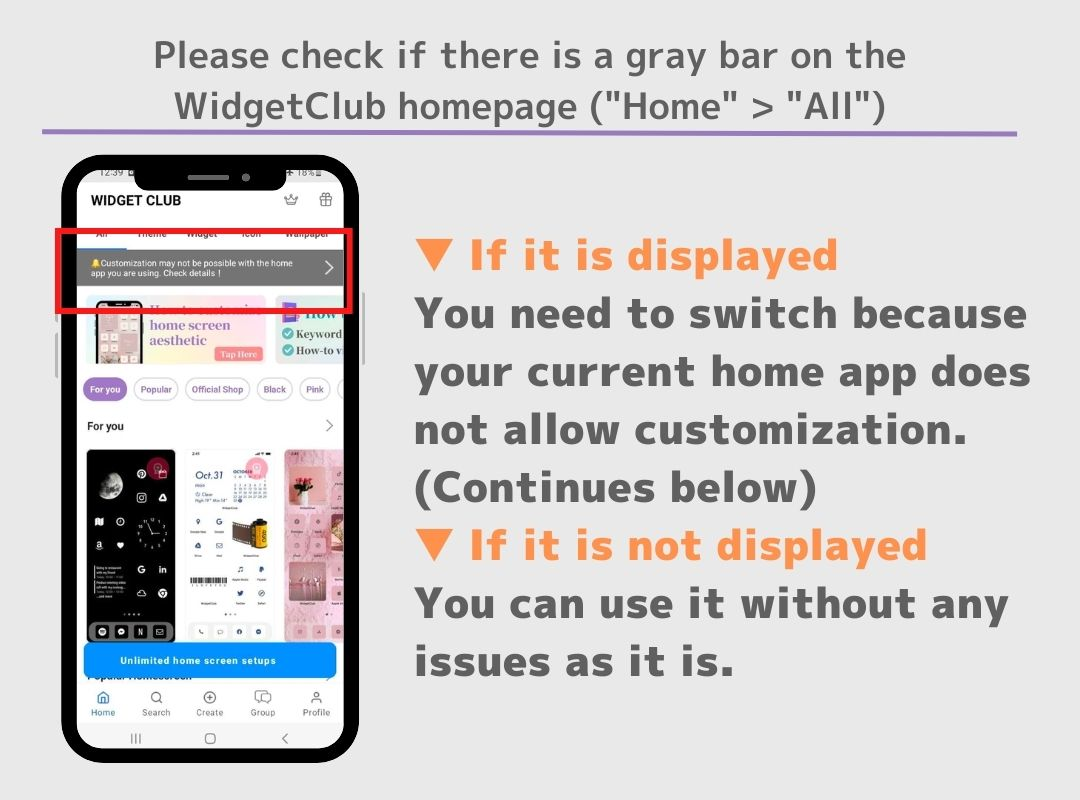 If you need to change your home app, please check this article below.
Our top recommendation is Nova Launcher
Nova Launcher is the most stable option and highly recommended! It has been confirmed to work well with WidgetClub. The free version works just fine.
What to do if widgets reset to default appearance after restarting?
If you open the WidgetClub app after restarting, the widgets should display without any issues. Unfortunately, we can't do anything about issues on the home app side, so we kindly ask for your understanding 🥲
Widgets don't update in real-time. What should I do?
If clock or charging widgets don't update in real-time, try the following:


Update the app to the latest version
Make sure you're using the latest version of the app. Issues related to clock updates have been resolved since version 3.1.0.


Update your OS version
An outdated OS might not work well with the app.


Check if power-saving mode or similar features aren't causing problems 【Important】
WidgetClub requests Android to update every minute, but if your battery is low, Android may stop widget updates. Make sure your device's "Battery Optimization" is OFF and that you're not using an app that enables power-saving mode.


How to prioritize widget updates by turning OFF "Battery Optimization":
1. Open the "Settings" app.
2. Tap "Apps & notifications."
3. Tap "Advanced settings."
4. Tap "Special app access."
5. Tap "Battery optimization (or power-saving feature)."
6. Tap "Not optimized apps," then select "All apps."
7. In the app list, tap "WidgetClub."
8. Choose "Don't optimize" and tap "Done."
※ The exact names may differ depending on your device, but the basic steps should be the same!
If you have an app that enables power-saving mode installed:
Please contact the app provider or consider uninstalling the app, as the solution depends on the specific app you're using.